<! BODY TITLE> 12 THREADS MODERN JACKET DESIGNS

<! BODY> Nothing looks better than a properly fitted suit jacket. 12 Threads suit jackets may be worn with slacks of the same fabric to create a power suit or with your favorite pair of jeans and shirt for an easy-to-wear casual style!

Classic, Stylish, and Functional.

All our jackets include (unless you ask for something different!):

-
Hideable flap bottom pockets
-
Your name embroidered on the inside
-
4 Inside Pockets (includes Pen/cell phone pocket and business card pocket)

Special add-on options to personalize your jacket even more!

- Hand-Sewn Pick Stitching (lapel and front)
- Ticket Pocket
- Special lining and piping - See our silk fabrics for available colors

If you want to have your slacks made exactly like the last time - just let us know that you want the "Same as Before." (SAB)

Whenever you are ready - take a look at our Fabrics



1) The J.F.K.:
Refined class and undeniable sex appeal. This jacket is exactly what the 35th President of the USA wore while meeting with world leaders, and dancing with Marilyn Monroe - What incredible range!

- 2 Button Single Breasted
- Notched Lapel
- 3 Standard External Pockets
- 1 vent

2) The Modern: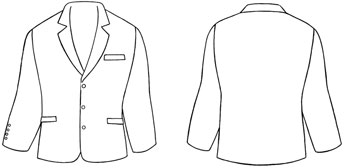 The perfect look for the contemporary guy - Versatile and very good looking. As seen on countless celebrities while walking through Italy, this jacket never goes out of style.

- 3 Button Single Breasted
- Notched Lapel
- 3 Standard External Pockets
- No Vents

3) The Peak: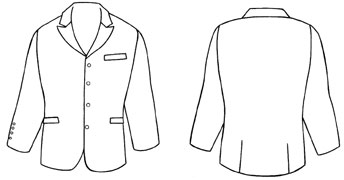 Undeniable style. This jacket looks best when worn with matching slacks as a full suit. Modern in design, and flashy in style, this jacket will surely get complimented.

- 4 Button Single Breasted
- Peak Lapel
- 3 Standard External Pockets
- 2 Vents
- 3 inches extra long

4) The Clean Look: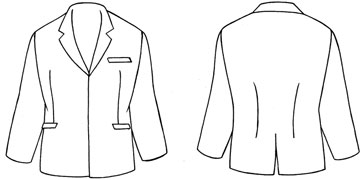 A complete original in every way, this jacket is fashion-forward at its best! This jacket is something special; Hidden front buttons adds length to the look of this jacket. The squared front works great with striped fabrics.

Choose this style, and it will quickly become your favorite jacket.
- 3 Hidden Button Single Breasted
- Notched Collar
- 3 Standard External Pockets
- 1 Vent
- squared front

5) The Trend: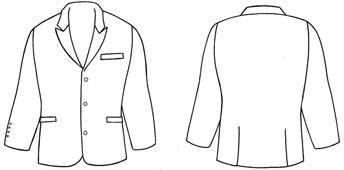 Want the hottest style of the year? Choose a solid color to make this jacket match a pair of casual slacks or designer jeans - Bolder fabrics? No problem! - the slacks and shirt can be used to dress it up or down.

- 3 Button Single Breasted
- Peak Lapel
- 3 External Pockets
- 2 Vents

6) The Tux: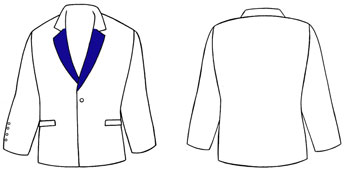 Can a Tux jacket really be worn without the tuxedo pants? Oh yes! You may have more attention then you are used to from the opposite sex wearing this jacket - Buyer beware!

- 1 Button Single Breasted
- Notch Collar with contrasting (Royal Blue shown) Satin lapel.
- 2 External Pockets
- Zero Vents
- Squared front

Want to see more? 12 Threads styles are endless!
We only look our best when you look your best! 12 Threads takes extra time to make sure that your garments are exactly what you want.